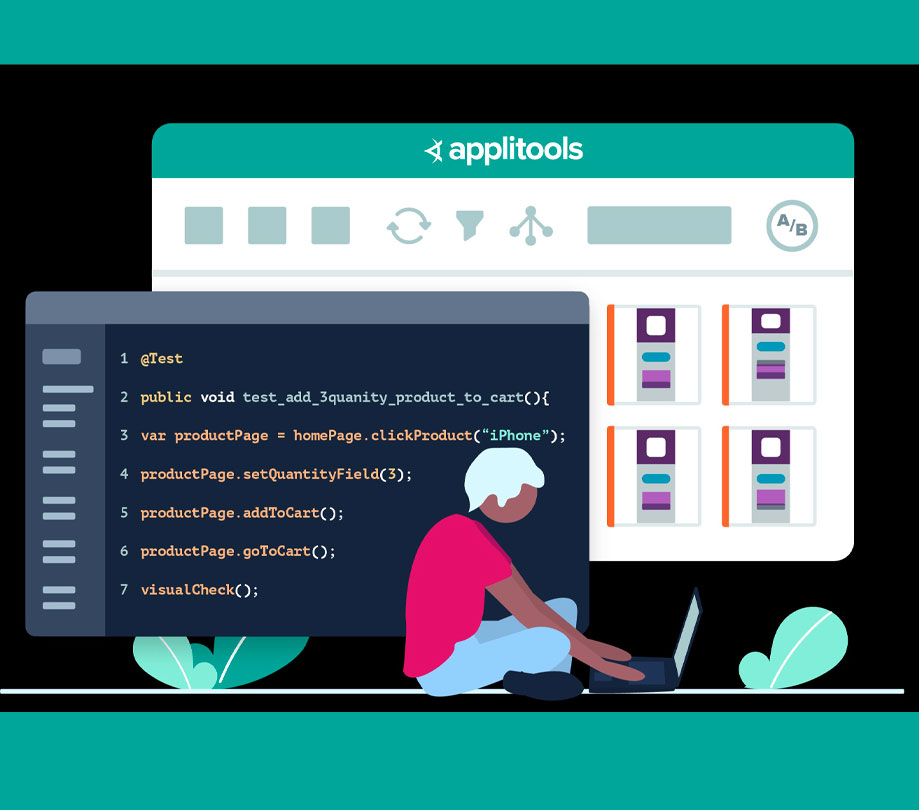 Automate mobile app testing with Native Mobile Grid
Applitools announces the general availability of Native Mobile Grid. It showcases the next-generation mobile device cloud that enables mobile developers, test automation engineers, and QA engineers to instantly automate mobile application testing on iOS and Android devices in the market.
As the latest extension of Applitools Ultrafast Test Cloud, Native Mobile Grid offers customers a level of speed and stability that was not possible with the existing generation of mobile device testing clouds (or grids). Traditionally, native mobile apps have been difficult, expensive, and time-consuming to test. Mobile devices are expensive to own and maintain, and testing tends to be incredibly choppy. Now teams only need to run mobile tests once on a local environment and Applitools Native Mobile Grid automatically validates the UI/UX of apps on other mobile devices in minutes.
In 2020, Applitools launched the super-fast desktop and mobile web browser testing grid, which has gained incredible popularity with hundreds of customers, helping them achieve excellent results. Developers using Applitools Visual AI can perform cross-browser testing 18x faster on all affected browsers with Ultrafast Grid, with 99.9999% accuracy. It also reduces the number of locators used by 91% to reduce testing time and effort by a factor of 3.8.
Automate mobile app testing on iOS and Android with Native Mobile Grid from Applitools
The Native Mobile Grid brings similar innovation to mobile testing and Applitools aims to disrupt the mobile testing space with its modern approach. Running cross-device tests on Applitools Native Mobile Grid is the fastest, most stable, and most accurate way to test mobile devices because its AI-enabled simulation grid dramatically reduces false positives and unstable tests.
During the early access program, Applitools Native Mobile Grid outperformed internal device farms and traditional real device clouds; tests that used to take 8-10 minutes now run in less than 2 minutes. Engineering teams that need to deliver quality mobile apps in a short period of time use Native Mobile Grid to reduce test execution time by up to 90%. Users were able to be up and running in minutes and, using advanced computer vision algorithms, they were able to run automated tests on simulated mobile devices in just seconds.
"Applitools allows us to speed up our visual testing and reduce the maintenance time of our native mobile project. The grid looks amazing and promising. I'm sure it will serve us very well in the near future," said Sergii Gan , QA engineer. on GrubHub.
"We are excited to see native mobile testing take a new technological step forward with Appium running on Applitools Native Mobile Grid," said Srinivasan Sekar, Appium Open Source Team Leader.
For a live demonstration of Applitools Native Mobile Grid, join the Future of Testing event today at: https://applitools.com/future-of-testing-ux-april-2022/
"We are creating a world where native mobile app testing can finally keep pace with mobile app development. This is a major technological evolution in the software industry. Applitools builds on the success of Visual AI and the Ultrafast Test Cloud to help businesses ship streaming tests with the fastest mobile device testing platform on the market today," said Gil Sever, Co-Founder and CEO of Apptools.
The world's biggest brands, including nine of the top 10 software companies, seven of the top 10 North American banks, and two of the top three North American retailers, partner with Applitools to accelerate innovation with Visual AI and Ultrafast Test Cloud. Discover the impact of modern cross-browser testing on organizations by reading customer stories in this library: https://applitools.com/case-studies/.
The growing adoption of Ultrafast Test Cloud has also led the industry to recognize Applitools as:
– Best Testing Service/Tool in the DevOps Dozen Awards for 2021
– #1 Software Vendor in Testing at the 2021 North American Testing Awards
– Fastest growing software testing company in North America on 2021 Deloitte Technology Fast 500 list
– Category leader in automated testing on GetApp and Capterra
Want the fastest way to continuously test mobile apps? Try Applitools Native Mobile Grid today at https://applitools.com/platform/native-mobile-grid/.
Subscribe to App Developer Magazine for just $5.99 per month and enjoy all these benefits.