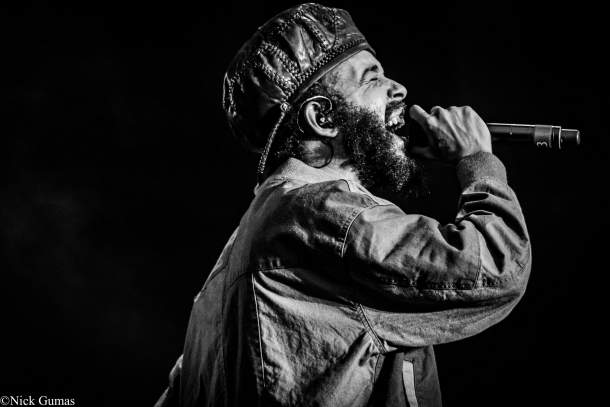 Cali Roots 2022 | First day | to sum up
Ladies and gentlemen, family and friends, brothers and sisters, we are finally back. After a too long forced interruption of two years, the biggest American reggae festival, Roots of Cali, returned to the Monterey Fairgrounds for their eleventh and biggest year yet. To make up for lost time, a fourth day was added to the festivities as the Memorial Day long weekend extended into Thursday. As the days went by, the artists gave almost superhuman performances to a crowd that showed as much courage in supporting each artist as if it was the first and last show they would go to. Before the first band hit the stage, festival organizer and surrogate father of modern Reggae, Dan Sheehan, took the mic to say a few words. "It's been a wild ass two years." He exclaimed. Over the next four days, Monterey would show how much he missed his beloved festival and wouldn't let a minute go by without letting it be known.
When came the time to Lucky Youth To take the Bowl stage, frontman Dan Kelly took to the stage barefoot, sporting his usual flannel and fedora aesthetic, ceremoniously smoking a joint and holding a beer. "So many beautiful faces out there, good to see you. Cali Roots, how are you feeling? He screened as the band kicked off their set with 'Peace Love and Unity.' The band's Hermosa Beach legacy manifested through Kelly's vocals, while stilling in their demeanor, while retaining the earthy, screaming quality consistent with the punk influence of so many punk bands that came out of South Bay in L.A. Their setlist, which was packed with hits, played almost every fan favorite, from "Pass the Herb" to "Good Times (Roll On)" to "So Rebel", had only one notable omission, "Sweet Love", a single from their debut album, which the band pulled last year after Dan Kelly proposed to his fiancé during the play a year prior.The set ended with the crowd as energetic as they were at the start of the piece as she sang "Burn One" eager to shout "We're gonna roll one, roll one" as many times as she could.
An act very familiar to the Cali Roots family, Jesse Royal has seen his career grow with the festival over the past few years. From her debut with the festival, many fans will remember her energetic sets on the pop-up scene years ago. They became one of Jamaica's biggest bands and drew huge crowds to their performance on the Cali Roots stage. Embracing his success in America, he took to the stage wearing a custom Los Angeles Dodgers camouflage cap, with the word "Royal" embroidered on the right side. He started his set with a recent hit, "High Tide or Low," calmly dancing onstage to a heavy bass beat and sold the crowd on the lyrics "High tide or low, I'll never let Jah go." A set that showcased his evolution as an artist and focused on his new hits, he took the time to look back late in his set and played one of the hits from his early days "Modern Day Judas". He ended his performance with a tribute to the collaborative album "Cali Roots Riddim" and closed with his contribution to the record "Ooh La La".
For so many of us who make the pilgrimage to Monterey every Memorial Day weekend, Cali Roots feels like a religious experience, but there was a moment that made that feeling quite literal late on the festival's inaugural day. Members of Esselen Native American Tribe came to the Bowl stage as the sun began to set to hold the festival's opening ceremonies and bless the field. A service comprised of speeches, music and prayer, they set a somber and thoughtful tone for the rest of the weekend. In attendance, Mayor Emeritus Mary Ann Carbone, a proud member of the Esselen Tribe, joined the service, her presence a shining reminder of the strong leadership within the community.
Reggae royalty Stephen Marley closed the Cali Roots stage for the night. Taking the stage to perform in front of a golden lion's head, Stephen Marley took center stage to close out day one on the Cali Roots stage, loudly proclaiming "Family, what's good?" As he started his set with Bob Marley's "Punky Reggae Party" cover. His set contained a good mix of his own songs and pieces from his family's repertoire, covering other songs by his father including "Three Little Birds", "Get up, Stand Up" and "Jamming" while performing several of his originals such as "Iron Bars", "Break Us Apart" and "Hey Baby". The energy for the majority of the show was gentle, but focused. He ended with a passionate and empowering statement: "We need to protect our children. No politician, no government can protect our children. We must protect our children. before ending his set with an acoustic cover of his father's anthem "Babylon System".
End the day on the Bowl stage, headliners dirty heads performed their blend of reggae and hip hop behind heavy bass and eerily dark heavy lights. Opening with their loud, danceable single that should have been the anthem of the summer of 2020, "Bum Bum" got the audience's hands up from the first note. They gradually reduced the tempo throughout their next songs "Burn Slow", "Mad At It" and "My Sweet Summer" before playing the single as close to a real ballad as they will ever write "All I need". "What a fucking vibe," lead singer Jared Watson once proclaimed in an emotional moment. "We played the first Cali Roots on the little grass stage right there for about 500 people, maybe a thousand people, and watching it grow… Thank you." Before performing an unreleased song from their upcoming album with the help of Common Kings frontman Junior King, the other Common Kings members dance on stage behind him. A set that played nearly all of their hits from "Medusa" to "Sloth's Revenge" and even "Oxygen," the band ended on a fitting note with "Vacation." The lyrics "I'm on vacation everyday because I love my job" are an understatement when considering how much fun the band members clearly had on stage every night. As the masses left the fairgrounds, the seal was cracked and no one could help but feel excited for the next three days of Cali Roots ahead.
Check out more photos from Day 1 at Cali Roots 2022.