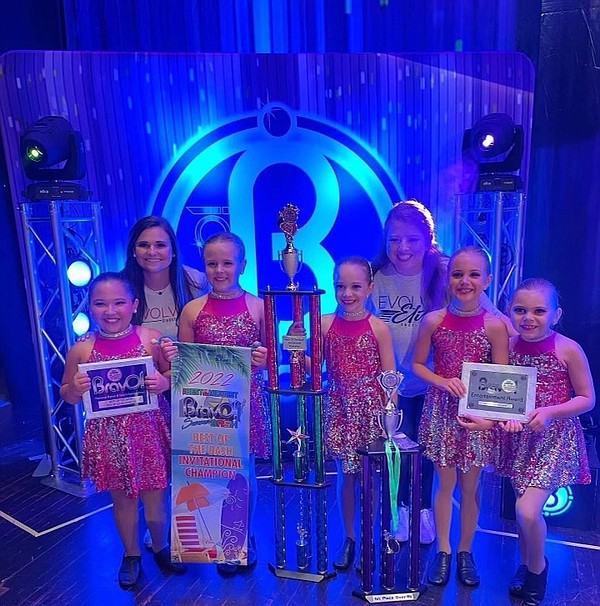 Evolve Dance Academy's Small Group Small Team Wins Grand National Championship
Competing against dance teams from across the country, Evolve Dance Academy's small group team dominated them all and won the 2022 Grand National Championship for the 5-8 year old small division at Iowa State in Ames , AI.
The song that earned Fulton's own Evolve Dance Academy a major national championship title was Wannabe by the Spice Girls.
Evolve Dance Academy's small team had the highest score in the small group division, securing first place for the small ages (5-9 years old), then they competed against a wider range of acts in their age in the championship.
This included both large groups (those with eight to 19 dancers), small groups (four to seven dancers), and lines (those with more than 20 dancers).
The top five scores across all ages of these groups (5-9 for the winning Evolve Dance Academy team) were brought to the championship to compete for the title of "Best of the Bash".
After participating in the "Best of the Bash", the small small team of Evolve Dance Academy again received the highest score and was named "Best of the Bash". This means that they beat not only small groups, but also large groups and lines.
Evolve Dance Academy's small group is made up of five dancers – Gwyneth Bright (8), Haven McClelland (8), Baylee Chism (9), Averie Salmons (8), and Rylee Harris (7).
Coaches Katherine White and Nikki Dowden helped the girls prepare for the competition.
The number of hours and competitions leading up to the national championships made it a long but rewarding journey. Evolve Dance Academy prepared for nationals 10 months ago and participated in regional events between February and May.
Typically, coaches White and Dowden spend eight to 10 hours a week preparing the team for regional events, but as the national championships drew closer, the girls spent even more time in the studio.
"Often four or five days a week – several hours and hard work every day – preparing to put in their best performance," White said.
Preparing for national championships, the Evolve Dance Academy team trained for two to three hours, sometimes even four a day. The time of the practices varied from day to day.
"It took place at all hours of the day," White said. "Sometimes we would pick the kids up from daycare and take them to practice at 1:00 in the afternoon. Sometimes we were in the studio until almost 10 o'clock at night.
Evolve Dance Academy competitors spent as much time, if not more, training for nationals, according to Dowden.
"It was definitely a tough competition that we faced," Dowden said. "Our older girls definitely saw the toughest competition. Our younger girls also had a tough competition, and they brought their game as well."
The Evolve Dance Academy team performed a sassy dance routine to the song Wannabe. Their winning routine was good enough to earn the team the entertainment award for their division as well.
"The song fits their personalities," White said. "They're all sassy, ​​fun-loving little girls, and so the song is a perfect fit."
Originally, the team was to dress up as five Spice Girls, but the costumes weren't delivered in time for their first competition.
In addition to performing Wannabe, the small crew at Evolve Dance Academy also took part in two other dances in addition to their winning routine.
As a studio, Evolve Dance Academy took 15 acts to Iowa.
Each dance routine is placed in a rating range, with platinum being the highest, followed by high elite gold, high gold, and silver.
In order to reach platinum, the team must accumulate at least 285 points; 300 points is a perfect score.
Platinum was the category in which the routine of the small dance team at Evolve Dance Academy fell, registering a score of 291.50 from the three judges. The team placed first in its division and first in its category (jazz).
The most prestigious of all, Evolve Dance Academy placed first in the grand champions vote, which represented a total of 1,000 participating teams, according to White.
One element of Evolve Dance Academy's performance that stood out to the judges was the group's pointy toes.
Comments from the judges included, "You guys are so much fun! and "Wow that's so awesome!"
Outside of their routine, the judges thought the small crew from Evolve Dance Academy were the most polished group of all week.
According to White, the judges' comments helped the girls grow as dancers.
In total, Evolve Dance Academy – with 20 girls in its teams – won one first place trophy, one second place trophy, one fourth place trophy, two fifth place trophies, two sixth place trophies and several judges' awards. . All of his scores were in the elite platinum or gold ranges.
The Grand National Championship wasn't just a weekend, the competition was an entire week of dancing.
Evolve Dance Academy left for Iowa the day after July 4 and returned home to Fulton late Sunday evening.
While the Grand National Championship was the focus, Evolve Dance Academy also held fun team bonding activities during its week in Iowa.
Some of these activities included going to a water park and having a pizza party with other teams that Evolve Dance Academy was competing against.
"We've had a lot of really good team bonding opportunities and experiences," White said. "At the end of the day, that's what's most important to us, is that the girls have fun and have fun. It makes it even more enjoyable when you have a win on top of that.
Evolve Dance Academy was also lucky enough to attend a few hip-hop dance masterclasses with girls from other teams and a class led by a professional dancer as well.
All five girls said the masterclasses were fun and challenging.
This week and next week, the team has a break before starting a new season in hopes of qualifying for the national championships and potentially winning another major championship.
This season's work has not gone unnoticed, as the girls have impressed their coaches, judges and parents.
"I just think it's important for the girls to know how proud we are of them and their hard work and dedication," White said. "And we can't wait to see what their future holds."