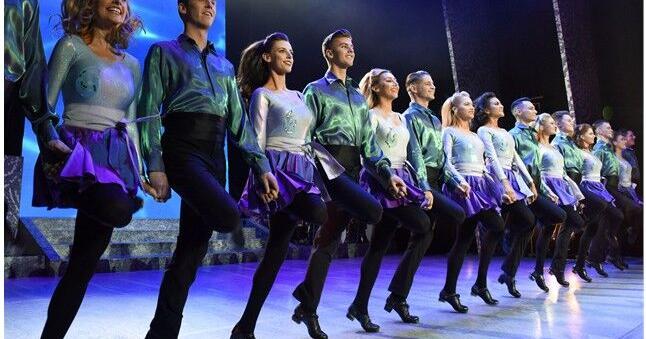 Mesa Arts Center is Hosting a Big Season of Shows | get out
The Mesa Arts Center has unveiled its 2022-2023 Performing Live season which its program director calls "our greatest season ever."
"I've been booking shows at the Mesa Arts Center since it opened in 2005," Randy Vogel said. "I believe the 2022-23 Mesa Arts Center Performing Live season is our biggest season yet. I'm especially thrilled that we're bringing the Chicago Symphony Orchestra to the Mesa Arts Center. The last appearance of the Arizona Symphony Orchestra dates back more than 30 years.
Tickets are on sale at MesaArtsCenter.com and at 480-644-6500.
Here is the schedule:
Matt Fraser, July 9. Matt Fraser is America's top psychic psychic and the star of the hit TV series on E! Entertainment.
Kurtis Connor, August 7. Performer, podcaster and global YouTube sensation Kurtis Conner brings his freshest and funniest material to date to the stage.
America, August 21. Based on their hit song "A Horse With No Name". America has had an impressive streak of success.
Whose Live Anyway?, September 8. The critically acclaimed improv comedy show aired on ABC from 1998 to 2004 and returned in 2013 on The CW, where it is entering its 8th season.
Clannad: The Farewell Tour, September 13. Clannad fuses elements of traditional Irish music and more contemporary folk, new age and rock which combine haunting melodies and haunting vocals.
Mariachi Herencia de Mexico with special guest Lupita Infante: Cuando Mexico Canta, September 17. The group of young Latin GRAMMY nominated Mexican-American musicians are recognized as the new ambassadors of the mariachi tradition.
The Music of Cream, September 24. Cream was the role model for every supergroup and the precursor to heavy blues for Hendrix, Zeppelin and more.
Adam Golka, October 6. Polish-American pianist Adam Golka is a concerto soloist.
Tower of Power, October 7. Soul music's most dynamic and distinctive surviving band roars into its unprecedented 50th anniversary.
Nella, October 14. Nella released her debut album in 2019, written and produced by Javier Limón for which she won Best New Artist at the 2019 Latin GRAMMY Awards.
National Geographic Live, October 19. Learn how Mexico's iconic Olmec heads were created, explore the true meaning of the towering pyramids of Teotihuacan, and learn about the culture and daily life of the Mayan city of Chichen Itza.
The Fab Four, October 22. The Fab Four stand far above all other Beatles Tribute because of their attention to detail.
Wardruna, November 5. Wardruna have enjoyed vast global success, transcending musical genres, cultures and languages ​​while being renowned for their innovative and genre-shaping interpretations of ancient Norse traditions.
Belinda Carlisle, November 6. Go-Go founder and lead singer, Belinda Carlisle, has a unique blend of bold vocals, emotionally charged melodies and picturesque lyrics.
Winners of the Sphinx competition, November 10. This national competition offers young black and Latino classical string instrumentalists a chance to compete. Kebra-Seyoun Charles, double bass, is the winner of the senior division and Jonathan Okseniuk, violin, is the winner of the junior division.
Lila Downs, November 12. Mexican American singer and activist Lila Downs has won numerous Grammy and Latin Grammy awards with her superhuman vocal range and deeply empathetic spirit.
National Geographic Live, November 16.
Deck the Halls with Disney, November 17. Disney Concerts presents Deck the Halls with Disney with DCappella.
Brian Culbertson, November 20. Brian Culbertson, an award-winning multi-instrumentalist, songwriter and producer known for his distinct brand of contemporary jazz, R&B and genre-crossing funk, embarks with his band on The XX Tour.
Blue Man Group, November 21. Blue Man Group features iconic drumming, colorful moments of creativity, and original comedy with bespoke instruments, surprise audience interaction, and hilarious absurdity.
Under the lamppost, November 25. Under the Lamppost features your favorite holiday tunes plus songs from the American Radio Songbook.
Trinity: Classically Irish, three accomplished young Irish singers make up the cast of PBS's new Celtic music project – Trinity.
Mannheim Steamroller Christmas, 27 November. The band's Christmas tour has become a holiday tradition, as has the decorating of the tree.
Dave Koz & Friends, December 14. Special guests David Benoit, Rick Braun, Peter White and Rebecca Jade continue their annual holiday tradition.
Straight No Chaser, December 27. Straight No Chaser is the real deal, the captivating sound of nine pure human voices coming together to create extraordinary music.
The Smothers Brothers, January 20. Tom and Dick Smothers, in person for an evening of memories and laughs with classic "Comedy Hour" clips and interactive Q&As with the audience.
National Geographic Live, January 18. Alizé Carrère, environmental anthropologist and filmmaker, offers a hopeful look at humanity's resilience, perseverance and innovation, even under the most difficult conditions.
Classical Music Inside Out, January 19. Pianist Awadagin Pratt and the Maxwell Quartet will perform together on a piano quintet by Jamaican-British composer Eleanor Alberga.
Chicago Symphony Orchestra, January 22. Since September 2010, the Chicago Symphony Orchestra has been conducted by renowned Italian conductor Riccardo Muti.
Emmet Cohen Trio, January 25. Multifaceted American jazz pianist and composer, Emmet Cohen plays with the mastery and passion of an artist entirely devoted to his medium.
Pilobolus: Big Five OH!, January 27. Pilobolus challenges his own "data", hijacks his traditions and brings his past into the future.
Kathleen Turner, February 18. A unique chance to see a true Hollywood legend on stage.
Itzhak Perlman, February 19. Itzhak Perlman enjoys superstar status rarely granted to a classical musician.
The Moth Mainstage, February 23. The Moth empowers people from all over the world and from all walks of life to share their stories on stage in front of a live audience.
Penn & Teller, February 24. For more than 40 years, Penn & Teller have defied labels, and sometimes physics and good taste, redefining the genre of magic and inventing their own very distinct niche in comedy.
Our Planet Live in Concert, February 25. Combines HD cinematography with all-new orchestrations by Oscar-winning composer Steven Price performed by an orchestra on stage.
Zuill Bailey, March 2. Zuill Bailey, widely regarded as one of the world's finest cellists, is a distinguished soloist, recitalist, artistic director and teacher.
The Queen's Cartoonists, March 3. The Queen's Cartoonists perform cartoon music perfectly synchronized with the films shown on stage.
Mania The ABBA Tribute, March 4. It has now been 31 years since Abba's last tour. In 1979, ticket requests far exceeded availability with two million ticket requests and only 5,000 available.
Stomp, March 9-12. Matchboxes, brooms, trash cans, Zippo lighters and more fill the stage with energizing beats in this inventive and invigorating show that combines dance, music and theatrical performance.
Black Violin, March 17. Black Violin is led by classically trained string players Wil B. (viola) and Kev Marcus (violin). Joining them on stage are DJ SPS and drummer Nat Stokes.
National Geographic Live, March 22. Paleontologist Lindsay Zanno examines how a global climate crisis during the Cretaceous changed the course of evolution.
Alan Menken, March 31. Composer Alan Menken takes audiences on a journey through over thirty years of hit songs, films and musicals.
Eroica Trio, April 6. The Grammy-nominated trio Eroica delights audiences with flawless technical virtuosity, irresistible enthusiasm and sultry elegance.
National Geographic Live, April 12, Paraclimber Maureen Beck learned to climb one-handed through trial and error – one of her first innovations in adaptive climbing was sticking a metal ladle on his arm.
Simply Three, April 15. This classically trained string trio destroys boundaries and pushes boundaries by adding their flair and innovation to popular arrangements and new compositions.
Ukulele Orchestra of Great Britain, April 25. There's music, irreverent wit, and wicked fun that transcends language and nationality; a requiem for rock and popular culture.
Riverdance, May 3-7. For over 25 years, nothing has carried the energy, sensuality and spectacle of Riverdance.