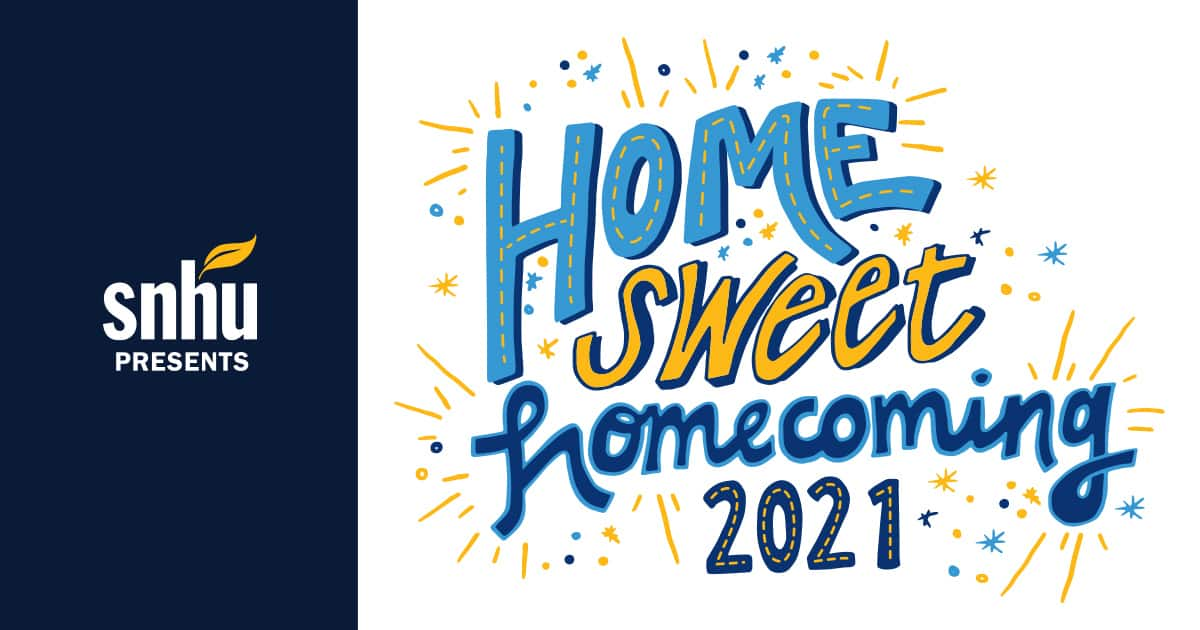 Reunion 2021 unites the global SNHU community
Southern New Hampshire University's 10th Annual Homecoming brought together alumni, current students, faculty, staff, families and friends from around the world to celebrate their collective Penmen pride in October. Members of the SNHU community joined them from their individual spaces for festivities centered around the theme: "Home Sweet Home (coming soon)".
While the ongoing pandemic fostered the entirely virtual nature of the event, the format ensured inclusion of the entire community – a point that was recognized and appreciated by many attendees throughout Homecoming. The Office of Student Engagement and the Alumni Engagement Team of the Office of Institutional Advancement have organized over 20 live virtual events and on-demand activities that will take place over four days.
On-demand activities included a scavenger hunt, photo contest, and virtual 5K. The live virtual events featured a country artist Angie k and magician Michael kent, plus bingo, yoga, an esports tournament viewing night, connection opportunities and more. The Alumni Board of Directors also held its annual meeting as a live broadcast event, in which five recipients of this year's Alumni Awards were announced.
Connect with the SNHU community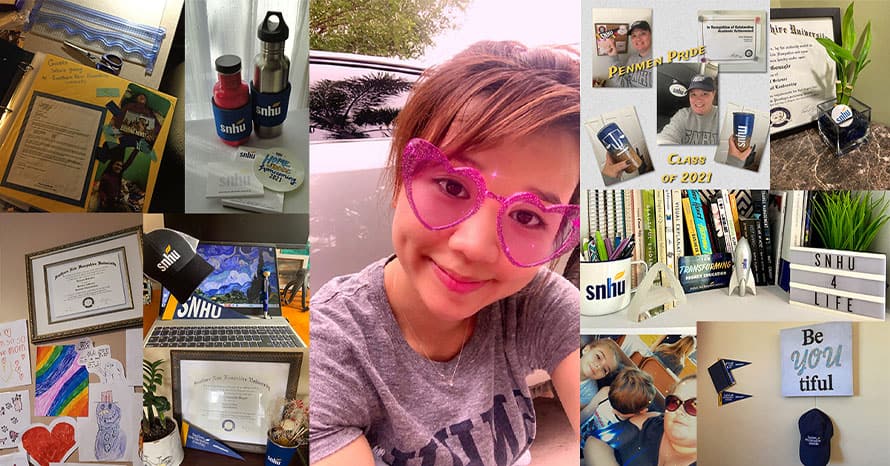 The SNHU Community Connections live event offered two sessions to provide flexibility in attendees' schedules. Both sessions reached their full capacity with state representation across the United States – from New Hampshire to California – and internationally from Malaysia and Antigua. This allowed attendees to connect, and they also learned about upcoming programs and regional event opportunities to stay engaged.
At the opening of each session, the SNHU guidance counselors Christophe dodds and Tom patria spoke about the value of networking and provided tips that participants could immediately use as they moved through themed chat rooms. Being encouraged to share a proudest or favorite SNHU moment sparked a reflection on the milestones in SNHU's evolution – from formerly New Hampshire College to the SNHU campus known today, as well as the online student experience. . Another theme of the breakout room focused on individual passions, revealing that community service, finance, and pop culture are in the interests of the community.
The Building Connections sessions made it possible to establish many new connections – and a few reconnections. "The conversation went very smoothly in both sessions and in all the different chat rooms, with most people willing to participate and make connections. It was fun to "see" people from so many areas of SNHU, even on a screen, "said the deputy director of alumni engagement. Rebecca Lazinsk '17G, who was the organizer of the event.
Zaky Ahmady '97, a Malaysian alumnus who graduated from New Hampshire College in the late 1990s, said he keeps in touch with many of his New Hampshire College friends online today. He also expressed his enthusiasm for the virtual Homecoming lineup to allow him to participate, which has not been easy to achieve in recent years due to the location barrier.
Creativity, fun, learning and laughter
In addition to the two Building Connections sessions, the live virtual events calendar provided nine other opportunities for the SNHU community to connect, create, learn, have a little laugh and be entertained.
The audience for the BYOP (Bring Your Own Paint) painting evening included a mix of families and individuals who received painting lessons accessible to all ages. The event allowed participants to learn while making contact with their creative side.
The instructor created an atmosphere of forgiveness and encouragement, manifested when he provided a self-critical student with a different perspective. When the student noticed that they had "ruined (their) tree" because they painted their branches too wide), the teacher replied that this might be a good opportunity to enlarge the trunk.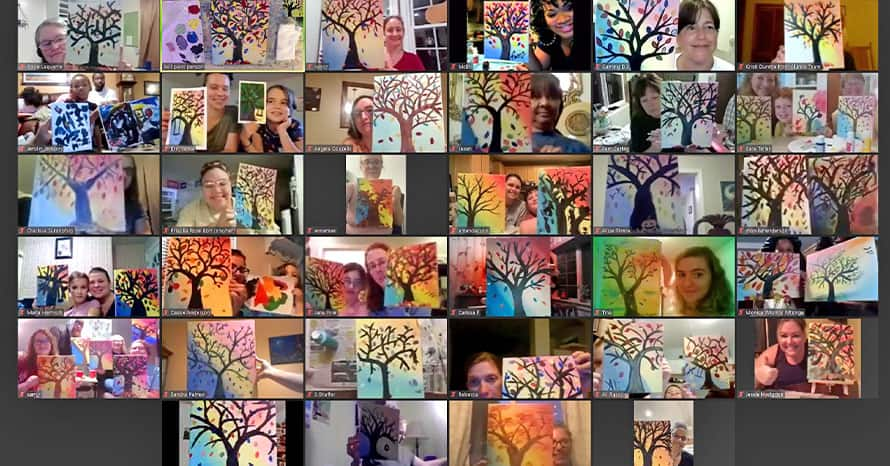 A family went straight from the painting event to Angie K's country music performance – and were seen singing from the start. Angie K stole the show, delivering more than music to her audience. Between song requests, she shared stories, including recollections of her time on "The Voice," noting that Blake Shelton is "much bigger than you can imagine".
With her welcoming personality and great sense of humor, Angie K easily connected with attendees of her event.
"People seemed to really enjoy the event," said the senior associate director of alumni engagement and event organizer. Sara telfer.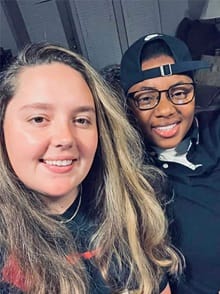 Along with bonding within the SNHU community and BYOP Paint Night, Big Money BINGO saw the greatest turnout. The game was projected onto a screen in SNHU's Last Chapter Pub, where campus students played with portable bingo cards while hundreds of virtual players generated their cards via an online link.
"Even though we didn't win, we still enjoyed playing bingo with the whole SNHU! #SNHUhomecoming #PenmenPride ", posted Monika Henderson in the discussion on the Facebook Homecoming event.
Several links have brought excitement to the game. Bingo Host and Past President of CAPE Ashley Kaminski '19 asked players to share their favorite part of Homecoming, which inspires them and more. The active chat box was proof that there was no shortage of engagement in this live virtual tradition.
Fun for the whole family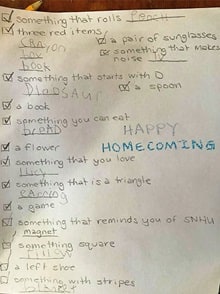 At SNHU, Penmen's pride extends to personal networks. Homecoming's on-demand program was packed with family fun for everyone. Social networks of SNHU alumni were animated by comments from participants enjoying the "choose your adventure" and "do anywhere" activities.
Another activity was a family home scavenger hunt, which asked participants to print out a checklist of items to look for around their homes. "The printer decided not to work today, but the little one enjoyed the treasure hunt," said Tiffany Martin '20G, who finished the activity with his son, Declan.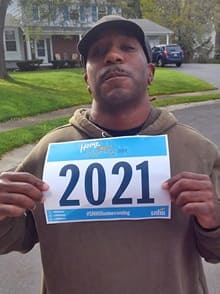 A long-time favorite, the Virtual 5K, offered the opportunity for participants to share photos of their run, walk, roll or jog. Travis Coley '18, who drove from New York City to volunteer at Homecoming two years ago, participated in Virtual 5K this year while running in a park near his home. You can see Coley and other familiar faces in these photos 5K.
The event organizers asked members of the SNHU community to show how they display their Penmen pride by entering the "Eye Spy SNHU" photo contest in Your Home Sweet Home. Photo submission by Soulivanh Rattanavong '19MBA won the most votes, earning him a limited edition SNHU Homecoming 2021 t-shirt.
And, to help members of the SNHU community display their Penmen pride, the Alumni Engagement Team mailed SNHU loot packages to 200 randomly selected attendees during Homecoming week.
Alumni recognized for their exceptional contributions
Five alumni who have demonstrated a commitment to the SNHU community were recognized at the annual virtual SNHU alumni board meeting. SNHU President Dr. Paul J. LeBlanc delivered opening remarks at the meeting, expressing his gratitude for these individuals' dedication to SNHU.
Emerging Leader Award
Aarron Dupuis' 19MBA received the Emerging Leader Award for his active involvement both as an Online Student Leader and as a New Engaged Alumni Leader in the fields of Global Days of Service, SNHULEADS Conference and as a Board Member SNHU Alumni Administration.
Michael Williams '16 '18G received the Emerging Leader Award for her passion for mentoring and leading fellow online student leaders, her commitment to building community, and her ongoing strong presence on how SNHU alumni add value to global communities in which they live and serve.
Distinguished Alumni Service Award
Polly St. Hilaire '76 '84MBA received the Distinguished Alumni Service Award for decades of community involvement on campus. Beginning as an active student leader at then-New Hampshire College and through the many leadership roles she held in residency life, she continues to nurture student and alumni success throughout her years. over 35 years of service and as a proud alumnus of SNHU. .
Distinguished Service to Alumni Award
SNHU Equity and Inclusion Director for Learner Success Helen Iaquinta received the Distinguished Service to Alumni award. She was selected for her contagious enthusiasm in engaging and celebrating the diversity of the SNHU community and her volunteer leadership in events like Queen City Pride to ensure that the SNHU community is represented, celebrated and affirmed.
Alumni Hall of Fame Award
Gary St. Hilaire '86 received the Alumni Hall of Fame Award for building successful careers and achieving key leadership roles in the healthcare industry, sustained community engagement and philanthropic support from SNHU students during many years as they work to build goal-oriented careers and lives with a foundation of an SNHU degree.
Learn more about the Alumni Award for more information. An in-person awards ceremony is scheduled for late spring 2022.
You can find more pictures here of this year's Homecoming festivities.
Jessica Winter is Director of Communications for Institutional Advancement at Southern New Hampshire University. Connect with her on LinkedIn.