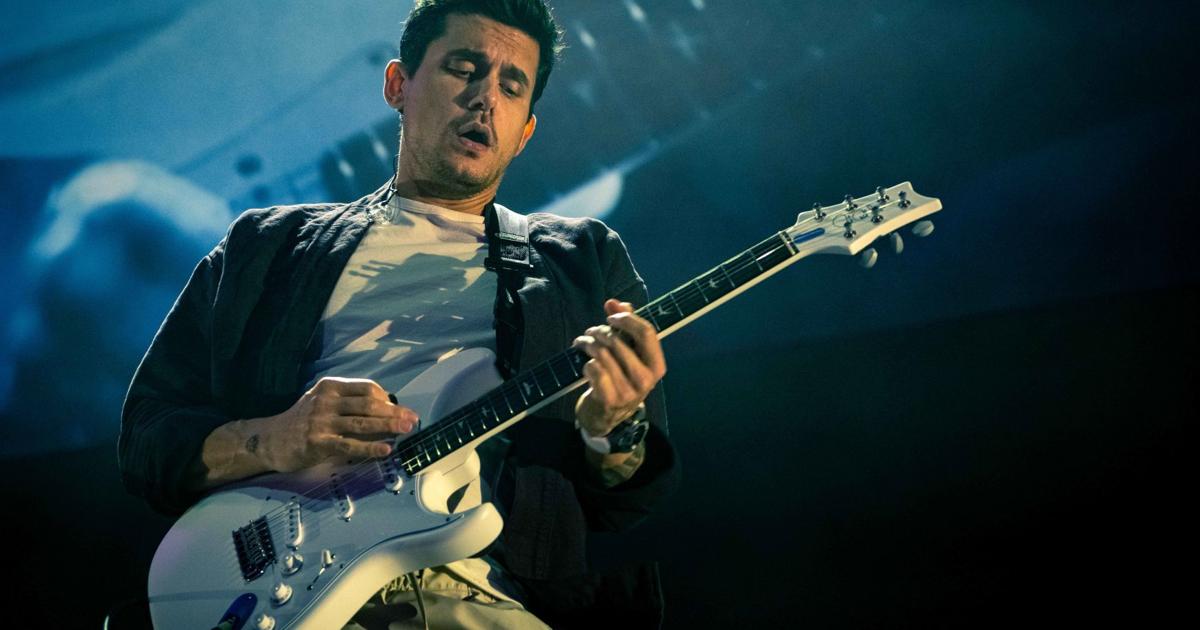 Singer-songwriter Mayer lives in the moment as he returns to Pittsburgh | News
John Mayer views concerts almost on a spiritual level, calling them "a very innate act of celebration, human appreciation, and group rejoicing."
His goal on stage, where he'll be at 7:30 p.m. Friday at PPG Paints Arena in Pittsburgh, he explains, is to be able to stand in front of thousands of people "like I'm completely in the moment every moment."
He sings what he wants to sing depending on how emotional that day makes him feel, he said.
"That's what comes out of my mouth and my guitar. It impacts people. They know anything can happen," he said. "I love getting on stage, getting a guitar that's tuned, muting it, knowing that any time I want to play a note, I can play it. People are waiting for me and I'm waiting for me, and I have no idea what I'm going to play. It is the greatest joy in life.
In addition to career-spanning fan favorites, Mayer plans to showcase material from "Sob Rock," the eighth studio album by the seven-time Grammy Award-winning artist, guitarist and producer. It includes his single "Last Train Home".
This Bridgeport, Connecticut native charted on the five-platinum album "Room For Squares" in 2001 and earned three No. 1 debuts on the Billboard Top 200 with the triple-platinum "Heavier Things" (2003) , double-platinum "Battle Studies" (2009) and gold "Born and Raised" (2012).
Along with selling over 20 million albums worldwide and amassing billions of streams to date, his "Daughters" won the Grammys' "Song of the Year."
He produced "Sob Rock" with Don Was. It debuted at No. 1 on the Billboard Top Album Sales chart and was also the No. 1 rock album, vinyl album, and digital album in the United States the week of its release.
In another venture, Dead & Company was founded in 2015 with Mayer on lead guitar as well as vocals. Since forming, the band have completed 10 tours, performed to nearly four million fans, and become a record-breaking stadium performer.
He is proud to introduce his nine-member touring band to his Pittsburgh audience.
"The combined years of experience between these extraordinary musicians, along with their contributions to the art form, is truly something special to see and hear on one stage," he said.
Mayer said the rehearsals were "more of a revelation than a recital".
"I couldn't be more excited to hit the road with them, and I hope you can come see us," he said.
The cheering crowd that turned out for the artist's last appearance in Pittsburgh in July 2019 was certainly excited.
Mayer sometimes strayed from traditional approaches to rock and pop, leading his musicians through extended party jams of heavy jazz and blues, guitars and wailing vocals. It was music at its best!
His charming and understated humor put the audience at ease.
"Thank you for coming on a Sunday night. We don't usually do shows on Sundays, but it's fun," he told them in 2019. "Sundays are often for relaxing around the house into your sweatpants and do the laundry. We're happy to be your sweatpants tonight.
Mayer interacted warmly with his fans throughout the night.
He thanked them when they sang along with material, explaining that's when he knows his songs, even those that aren't hits, resonate with them.
Mayer said he prides himself on trying not to succumb to clichés.
"I am not ordinary. I'm not a parody of myself and by finding myself a new color to adopt, it's not this or that: it's a singer-songwriter, but it's also a blues guitarist, it's also a comedian," he said.
It's about responding to the night before and the night before, he explained.
"I like to give people something they don't want to miss next time. It's a show with little twists and turns. It makes me silly and stupid and compassionate and completely deep.
Mayer said his music is evolving on stage, especially after recording a record and playing the songs for a year.
"It will have changed but it allows me to grow," said the artist.
He compares it to a computer "with a whole bunch of upgrade slots".
"With a lot of these songs, the rim of the top of the cup is a lot higher than what I did with the song on the record so I can keep adding more on stage," he said. "I can play these songs on stage and look around between some of my parts. I can breathe, I can think, I can improvise. It's basically building in your own improvisation.
Whether on stage or in the recording studio, Mayer has made a comfortable home for himself.
"You stand in front of a microphone, you have things to say," he said. "It's not because you want to put another song on the plastic that's going to come out in the store; you say it because you have to get it out, and you can't get it out any other way.
When he writes a song about a particular topic, he says he doesn't do it because he has to meet a requirement for someone but because he himself needs it.
"The question is, 'Do I like what other people like?' Maybe one day it will go out of sync and then back into sync again," he theorized.
He is a philosopher on the subject of artistic continuity.
"There's nothing to reinvent, there's no thinking, no retooling, no updating," he explained. "It's just more; it's just continued. People always want to see a record as the business card, and whatever happens after that record is a giant leap or a transition or an experimental phase. No it is not. What if you didn't know anything? What if it's just the way it falls? You make a record and you're not done, so you put out another 10 songs, and I'm not done either.
Mayer considers he has plenty of time to explore his creativity.
"I don't have to be the coolest thing in my day," he said. "Give me a thumbs up, I'll make the most of it. Give me an extra inch, I'll make the most of it.
He says he still has a lot to prove and hopefully a lot of time to prove it. "You don't like this one?" I'll do another one," he theorized.
He knows how to stay focused.
"I don't feel like I have to squeeze the bottom of the tube to get anything out," he said. "It's just a confidence in yourself that you don't really have to worry about too much. All I have to do is not lose my mind, not lose who I am in as a person and to live my life.