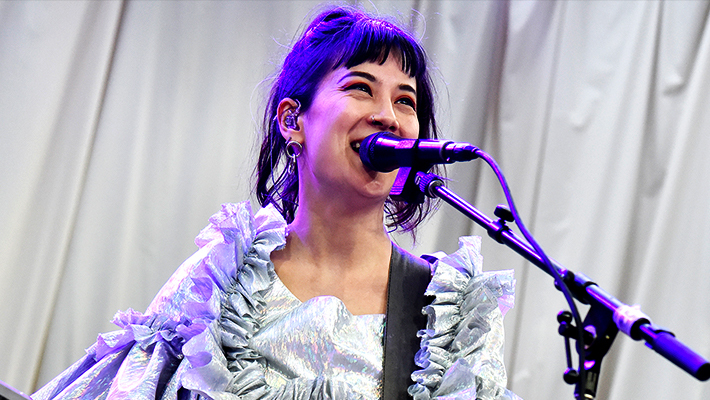 The evolution of Japanese breakfast brought it to the Grammys
Skim through Michelle Zauner's career too quickly and you might conclude that she primarily viewed her Japanese breakfast moniker as a valve to vent her grief. It was late 2014 when Zauner ended all activities with her band Little Big League and returned to Eugene, Oregon to be with her mother, who had been diagnosed with a rare form of pancreatic cancer that would become terminal. . In the history of popular music, it is common for the psyche of an artist recording under such desperate conditions to be overwhelmed, for lyrics to be scrutinized for ideas, for every creak of snare drum or hum of synth is analyzed in search of emotion. But Zauner made no secret of the fact that the music offered an outlet for his pain. When she posted the short lo-fi version Where is my great feeling? at Bandcamp in June 2014, it was with a note that revealed his mother's diagnosis. "I also hope that anyone else who has lost or is struggling with a family member or friend with cancer may be able to find some comfort in these sh*tty lo fi songs," he said. she writes.
Revisiting the origin story of the Japanese breakfast reminds us of how far Zauner traveled to get to the 2022 Grammys, where she's up for Best Alternative Music Album, acknowledging her third feature. Jubilee, and Best New Artist. This latest nomination is, of course, ridiculous, given that she has been musically active since 2006 at the latest, but it reflects Zauner's establishment in mainstream American music. Jubilee features big backing vocals, propelling guitar lines, a slew of orchestral instruments. Encouraged by bandmate and co-producer Craig Hendrix (although it's firmly Zauner's vehicle, Japanese Breakfast is sometimes called a band), she helped compose the string and horn arrangements for the first time. Zauner had, in fact, originally considered touring the record with an orchestra. Covid-19 restrictions put an end to these best-laid plans, but the intent reflects his grand vision for the project. "After writing two albums and a book about grief, I feel very ready to embrace feelings," she said. Fork in March 2021. "I just wanted to explore another part of me: I'm capable of joy and I've experienced a lot of joy," she added. "All the songs are different reminders of how to experiment or create space for it."
Zauner has yet to be one of Bowie's reinventions. Japanese Breakfast's evolution from streaming rusty lo-fi jams online to the Grammys has been organic. At Psychopomp, his debut album as Japanese Breakfast, Zauner and musician Ned Eisenberg polished some of these previously released compositions. Alchemizing dream pop, shoegaze and alt rock from teen movies, Zauner wrote songs with lovely melodies but sad overtones. Alongside the fuzzy, chugging guitars of "In Heaven" is the image of the family dog ​​searching the house for the Zauner's missing mother. "I came here for the long term," admits the singer. "Now I'm leaving here like a fucking empty hole."
Zauner's voice has a hushed, breathy texture, capable of blowing through arrangements like smoke through a room. But it can also be versatile. The voice of "Rugged Country", also of Psychopomphas a more trashy side, appealing to the spirit of Joan Jett.
There was a quick follow-up in Sweet sounds from another planet, released on Dead Ocean in 2017. A safe step, the arrangements were more fleshed out and sophisticated. Dream pop was still the template, but with added synthesizers, funky basslines, various bleeps and blips that provided cosmic texture, and, on "Machinist," a sax solo. However, a feeling of grayness enveloped the project. The beautiful and soothing "Till Death" featured post-traumatic stress disorder, insomnia, and fear of genetic diseases and death, presented as a thank you from Zauner to her husband for his support.
We can be tricked into thinking that coming-of-age tales can happen in real life just as well as in a John Hughes movie. But life's major lessons rarely fit neatly into a weekend in detention or an unauthorized day off. No Japanese Breakfast album cycle offered a perfect arc with happy resolution. They gave us Zauner, in his mid-twenties and struggling with cacophonous angst, and the realization that grief is not a straight, downward line that time automatically heals. "I have a shitload of gastrointestinal cancer in my family – my mother and her sister died very young – so I feel like I have a ticking time bomb inside me," she told Pitchfork during this interview last year. And yet, there is evidence that the storm clouds may have begun to dissipate: "Once death was really close to me, I suddenly became very afraid of it. I think it lit a fire in me like, What do you have to say before this happens?
A four-year hiatus from making albums saw Zauner tap into a passion for songwriting in the memoir Crying in H Mart, which not only covered the death of her mother, but, as a woman of Jewish and Korean descent, having grown up as a mixed race in America. And, shortly before the book came out, there was Jubilee. It would be wrong to suggest it's the sound of commercial compromises, but its sense of catharsis is blended with brighter 1980s indie-pop arrangements in a more traditional savory formula. The baroque overture "Paprika" features trumpets, trombones, and cellos, among many other instruments, immediately offering more grandeur. Zauner describes waking from a dream of untying a huge knot, immediately allowing the listener to share a sense of release.
Featuring music co-written by Wild Nothing's Jack Tatum, lead single "Be Sweet" is Japanese Breakfast's most anthem-esque track: a brash indie number that draws inspiration from both contemporary adult sounds and music. new wave of the 80s. Interestingly, it is followed by "Komono, IN". Zauner's favorite song on the album sounds like vintage 1950s pop from an artist like Patti Page, but with the undulation of a slide guitar hitting the strings.
https://www.youtube.com/watch?v=2ZfcZEIO6Bw
The outer perimeters of the Japanese breakfast sound are further tested on "Slide Tackle," which features a steady, synthesized beat that sounds salvaged from an old Postal Service track. "Savage Good Boy" is underpinned by what sounds like a more hyperactive version of Devotchka's famous "How It Ends" riff.
"Posing in Bondage" is one of Zauner's greatest achievements. The rough and mechanical beauty of the music is combined with a lilting melody. The chorus on short phrases is an exercise in brevity: "Closeness / Proximity / I need / Bondage," Zauner sings, each word floating in the atmosphere.
After Jubilee, Zauner has released a soundtrack for the video game Sable – check out the string-driven "Better The Mask" and how it resembles the production skills of Jon Brion and Van Dyke Parks. Even more recently there was a new standalone single, "Nobody Sees Me Like You Do". A piano ballad, it sounds like the last track of an epic record, perhaps an encore to the first act of Japanese Breakfast. Picking up a Grammy would be an emphatic button on this period of his career. Zauner's upward trajectory so far might have seemed unbroken, but that doesn't mean the road has been predictable.